About Us
DBTRB&B  Owners

…Darryn and Liz Cray

We have decided to keep this page active so you can see the history of the Property.

We have been so very busy here at DBTR we have not had time to update you with our many changes.

But we can tell you the 125 Five star reviews in a row we have gotten on Trip adviser  should tell you we must be doing something right.
About The "Original Innkeepers" at their San Pedro River B and B near Tombstone
Mike (Bill) and Angie welcome you to a unique B and B experience at Down By The River, a San Pedro River B and B near Tombstone, located in St. David, AZ.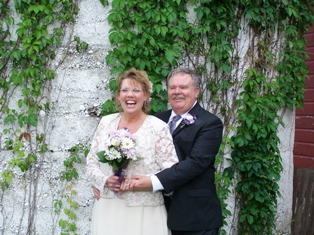 The history of our B and B near Tombstone and how it went from an idea to a reality is different from most stories told by innkeepers. Both Mike and his late wife Barb came to Arizona in the mid 1970s. Barb worked in the insurance industry as a claims adjuster. Mike was an engineer and general contractor working in the construction industry in Phoenix. After 25 years in the Phoenix area, they decided to make a change in their lives and decided to find out about b and bs. They spent the next 3 years researching the b and b business, finding a location to build a b and b near Tombstone, and designing their San Pedro River B and B to be a jewel in the desert.
Many innkeepers begin their new innkeeper career by buying an existing building and in some cases restoring the building. Mike and Barb visited many b and bs and looked at the operations from a guest side and then talked with the owners to get their insight. They looked at buying an existing b and b near Tombstone but found out that there was nothing that would fit the concept that wanted to provide for their guests. Since Mike was experienced in building design, he took on the project to do the plans for the B and B that would fit the list of positive designs that we had seen in other b and bs and to make sure the objectionable items that we found were not included. Barb took on the decorating and found items from all over the country to fit the themes that were planned for the rooms. In 2005 they opened Down By The River, their San Pedro River B and B near Tombstone.
After 4 years, Barb became incapacitated and finally passed away in 2009. Mike continued to operate the b and b by himself. During that time Angie returned with friends as a b and b guest and found out about Barb's condition. She had met Barb on a previous visit and had been given a detailed tour. After Barb's passing, Mike and Angie kept in touch by exchanging emails and phone calls and finally were married in 2010. Angie moved out from Wisconsin to enjoy the Arizona weather and escape the Wisconsin winters. Oh yeah and to be with Mike. Angie has added her touches to our San Pedro River B and B since her arrival with decorating ideas and additional recipes for the outstanding breakfasts that we serve.