The Authentic, Gourmet Arizona Breakfast at Down by the River Bed and Breakfast
Southeast Arizona Lodging authentic gourmet breakfasts tantalize the taste buds.
Are you tired of being served the usual restaurant bacon and egg menu items when you're traveling? Do you want more than the serve yourself continental breakfasts that are starting to be more commonplace in hotel venues? Would you like to try something better…an authentic, gourmet Southeast Arizona Lodging breakfast?
To provide you with a meal that you will enjoy, we check with our guests to see if they have any dietary restrictions. We will endeavor to provide for your special request but please let us know about them at the time of the reservation so that we can be properly prepared. If you are reserving the room online, please make a notation in the area where we ask for special requests. We have done special orders for vegans, vegetarians, as well as requests for low salt, sugar free, lactose and gluten free, and other dietary restrictions. We always want to be able to present something that is enjoyable for you, our guest.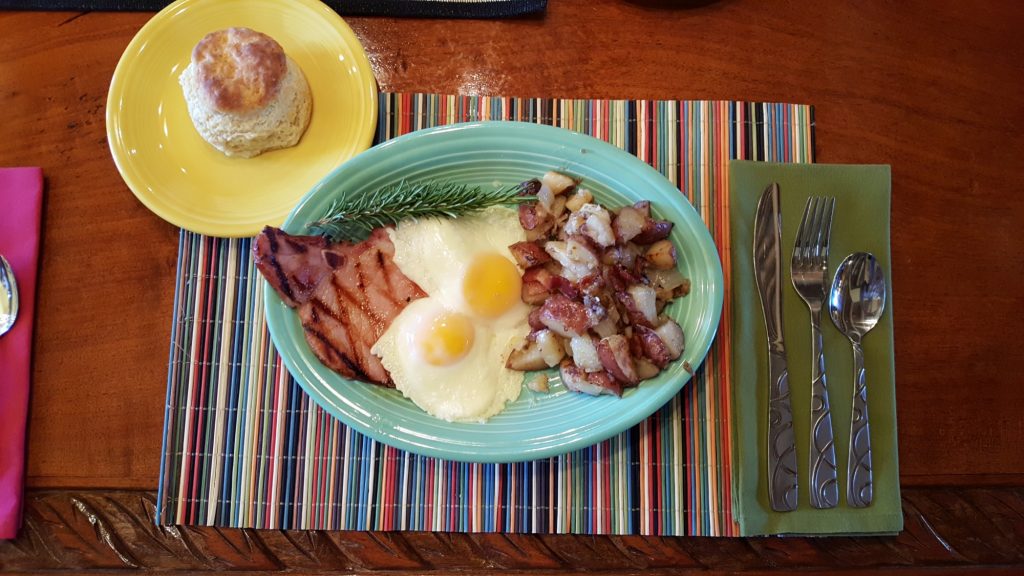 The Southeastern Arizona breakfast is a real treat at Down By The River Bed and Breakfast. If you have read our reviews, you will find that many of our guests have commented on the wonderful breakfasts that they have enjoyed while staying here. When we opened in 2005, our philosophy for breakfast at Down By The River was to make your breakfast a dining experience. Angie and I are committed to continue this philosophy, to be different, to set ourselves apart, and provide you a tantalizing taste experience that you will remember long after you have left Down By The River and traveled back home.
We are questioned about what type of breakfast we serve. Here is a brief summary of what you can expect on a typical morning. We serve our guests family style at a set time that we confirm with our guests. Everyone is seated at "The Table" so that the guests get to talk with each other as they dine together. This leads to some fascinating conversations and stories. Before you start, we have coffee or tea at the ready if you haven't made any in your room. Prior to the breakfast, we serve a fruit smoothie. The main entree follows and we explain what we have made for you. After breakfast many of the guests sit around the table and continue their discussion.
The main entree that is served varies daily and we provide you with a different entree every day of your stay as our guest. When you are a returning guest, we also endeavor to vary our menu from your last visit. The breakfast entrees we serve are souffles, quiches, various forms of French toasts, crepes, southwestern and specialty egg dishes, fruit or nut pancakes, waffles or recipes of our own making. Every once in a while, we do some creative cooking and experiment when we find a recipe that meets our standards.
If you would like to try our entrees at home, visit our blog where we will be
posting recipes from time to time.