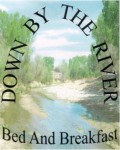 At Down By The River we serve a variety of breakfasts. We
try to make sure that our repeat guests get to try something new when they return to our Southeast Arizona b and b.  To this end we have developed some different styles of French Toast.  The caramel souffle French Toast is but one. We are putting this into our blog at the request of a recent guest that wanted the recipe.
This is updated since Sharon found an error in the recipe instructions.  We have corrected it . Thanks Sharon.
Hope you all enjoy this as much as we do.
Read the rest of this page »