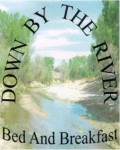 At Down By The River we serve a variety of breakfasts. We
try to make sure that our repeat guests get to try something new when they return to our Southeast Arizona b and b.  To this end we have developed some different styles of French Toast.  The caramel souffle French Toast is but one. We are putting this into our blog at the request of a recent guest that wanted the recipe.
This is updated since Sharon found an error in the recipe instructions.  We have corrected it . Thanks Sharon.
Hope you all enjoy this as much as we do.
Angie's Caramel French Toast as featured at Down By The River B and B, the lodging hub of Cochise County.
Ingredients:
1 stick           unsalted butter
1 cup              light brown sugar
½ cup            Maple syrup
¾ cup            crushed pecans
8 slices          thick chala bread (crusts removed) enough to cover pan
8                       Large eggs
2 1/2 cups    half and half
2 tsp               vanilla
½ tsp              salt
2 tsp                Triple Sec (optional)
1 tbsp              brown sugar for egg mixture
Instructions:
In a greased 9 x 13 baking dish, arrange bread slices in a single layer . Cut the bread to fit the dish removing crusts.
Melt butter, brown sugar and maple syrup in a saucepan over medium heat or microwave. Stir until smooth.
In a medium bowl, whisk together the remaining ingredients until well combined and pour over the bread.
Pour over bread in baking dish and spread  to cover the bread.
Add crushed pecans over the top of the bread.
Cover and refrigerate at least 9 hours or overnight.
Prior to baking bring soufflé to room temperature.
Bake in a preheated oven at 350 degrees F for 1  hour uncovered
or until puffy and golden brown.
Serve immediately.