Southeastern Arizona B and B Offers Our Southwest Egg Bake Recipe
Being a Southeastern Arizona B and B, one of our breakfasts reflects the flavors of Southwestern cuisine. We provide a savory Southwestern dish with a spicy taste. This is one of our breakfasts when you stay at our Southeastern Arizona B and B. This meal is both tasty and allows flexibility for preparation. With minor modifications, we are able to make it vegetarian, gluten free, lactose free. We can provide a breakfast appears the same but meets the dietary restriction of our guests.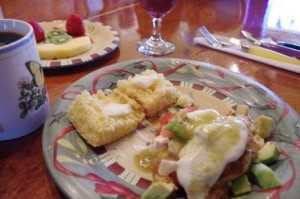 When we have guests with dietary restrictions, we place the portions into 7 ounce ramekins. The portions will vary from the 8″ sized dish. After you have reapportioned the ingredients, the bake time changes to 50 minutes uncovered. This method allows us to modify the meal to the guests requirements and make the meal similar for everyone at the table. For lactose intolerant guests we substitute soy milk with some flour to thicken the mixture and we leave the cheese off. Omitting the chorizo makes the dish meatless. We can also substitute turkey sausage for the red meat in chorizo.
Ingredients:
3 cups  Potatoes O'Brien
8          Large Eggs
1/2 cup Red Onion diced
1/2 cup Red Bell Pepper diced
1 cup    Chorizo
1 cup    Heavy Cream
1 cup    Pepper Jack Cheese grated
1          small can Ortega diced chilies
1/4 tsp  Salt
1/4 tsp  Black Pepper
1/4 tsp  Cayenne Pepper
1/4 tsp  Chili Powder
Directions:
Precook red onions and drain.
Precook chorizo and drain.
Drain Ortega chilies.
Dry potatoes of excess moisture.
Combine potatoes, red onions, red pepper, Ortega chilies and chorizo in a bowl and mix together.
Put into the 8 x 8 greased pan.
Combine eggs, heavy cream, salt, pepper, chili powder and cayenne into mixing bowl and mix until all the ingredients are combined.
Pour mixture over the potato mixture.
Sprinkle the grated cheese over the ingredients.
Cover and refrigerate overnight.
Cook covered at 350o F for 1 hour uncover and cook another 40 minutes.
We supply side condiment topping to enhance our Southeastern Arizona B and B morning entrée. These include avocado, tomato, sour cream and salsa. We also serve a slice of cornbread fresh from the oven. You can experiment with this to make it spicier or more mellow as you wish.  When you want to taste our breakfasts that guests rave about, give us a call at the "Lodging Hub of Cochise County" and book a room. At Down By The River, we do change up the menu on a rotation and so if you wish for a particular recipe you can request it at the time of booking. We can't guarantee that we will prepare it because of other guests that are here but if we can we will.