Southeastern Arizona B and B specials are found at Down By The River.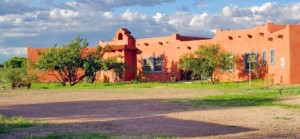 Are you looking for Southeastern Arizona B and B specials? I suggest that you take a look at Down By The River B and B. Our Cochise County B and B has partnered with local businesses to give you a little more for your dollar and add to your enjoyment when you stay with us.  Check out our Southeastern Arizona b and b specials  page on the website to find all the offers that we have and any requirements to use the discount.
One of the businesses whom we work with is Arnold's Flowers in Benson. We use Arnold exclusively for our floral arrangements and our guests have always been thrilled with the results. We currently have two specials running that incorporate Arnold's talent. One is for Valentine's Day and another is for Mother's Day. When you reserve a room for two nights, our Southeastern Arizona B and B will have fresh flowers placed in the room prior to you checking in. Surprise that special someone with this treat.
Another special business that we work with is The San Pedro Valley Observatory. With the dark skies there are many wonders that can be seen with their telescopes. We have gone there for an evening of star gazing and found them to be very friendly and knowledgeable. The astronomer who is with you during the observation will ask if there is anything you might want to see and he will educate you on different aspects of the heavens. The observatory also offers classes to learn astral photography. One of our guests took the class and it was amazing what he had done with their equipment. I have written in a previous blog about the facilities and the star gazing that is offered. When you stay at our Southeastern Arizona B and B, we will discount the room rate after confirming your reservation with the observatory.
We also offer Southeastern Arizona B and B specials for active military after they show us their military ID. We support our armed forces and offer this discount as an appreciation of their service. Lastly we also have a discount for multi-night stays. Since there is so much to do in the area, you will find that Down By The River is a perfect location for the short day trips to all the activities in the Cochise Count, along with portions of Santa Cruz and Pima Counties. That is why we are known as the Lodging Hub of Cochise County so Book Now and find out just what Down By The River, our San Pedro River B and B has to offer.