Romantic Place To Stay In Southeast Arizona is centrally located in Cochise County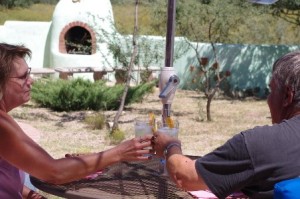 A romantic place to stay in Southeast Arizona is located at a B and B along the banks of the San Pedro River in Saint David. Down By The River B and B has been host to many couples that have spent their honeymoon night surrounded by the peace and quiet of our secluded bed and breakfast. We have had couples celebrating their anniversaries and Valentines Day here at our highly rated get away. We have a short story to tell about two gentlemen that planned a Valentines get away with their wives.
Mike and Dan didn't want their wives to know what was going to happen and they made the reservations on the sly. Each of them called when they were away from home. They made sure that the communications were through private emails. We worked with them on the charges so that the wives wouldn't see anything come through on the bills. And during the two months leading up to Valentine's Day they didn't let the cat out of the bag. They planned the perfect get away to a romantic place to stay in Southeast Arizona.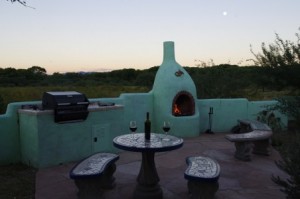 Since it was Valentine's weekend, Down By The River was offering a special for our guests that stayed with us for two nights. We provided flowers free of charge from our local florist that we always use. We made sure that they were placed  in the room for the guests prior to their arrival. Meanwhile Angie provided a memory maker by creating beautiful handmade Valentines cards for each of the couples. This added that something special that you remember when you are at a romantic place to stay in Southeast Arizona.
With our part done and ready, Mike and Dan had packed their wives suitcases and unbeknownst to them loaded the luggage into the car. Then they told their wives they were going on a short trip to do some horse back riding and have dinner. They said it would only be an hour or so and they got everyone in the car and left for our b and b. The stopped at a house that was for sale and acted like that was where the horses were suppose to be. Faking dejection they drove on to the B and B and said that this was a friend that would be making dinner.
When they arrived we started our tour of the b and b and explaining the main guest room. Charity and Kelly were looking at me like I was wasting my time and they didn't understand why we would do that. When we started explaining about breakfast, Mike and Dan were laughing and finally explained. This was one of the best cons I had ever seen pulled and they did it to perfection. They were let into their rooms and after a while were dressed for dinner and on their way out the door to a restaurant in Bisbee. Everyone enjoyed the weekend and Mike and Dan will now have to work hard to top this.
So when you want to have a quiet romantic place to stay in Southeast Arizona, think about Down By The River B and B The Lodging Hub of Coshise County. We are into the memory making business and have had some practice and making our guest feel the special something that you will find when you book a room here. Let us know in advance if you are celebrating an anniversary and if we have the lead time Angie can make up a card that will be part of your memories. If you wish, we can also provide flowers at a nominal charge for anniversaries, birthdays or other events.