Southeastern Arizona October Events Are For The Whole Family
Southeastern Arizona October Events are many and varied. I wrote about some in my last blog. That blog had to do with events in Tombstone but that isn't all that is the only events in Cochise County during October. There are other Southeastern Arizona October events going on in Benson with Butterfield Stage Days and the Butterfield Rodeo and in Willcox with Rex Allen Days and the Willcox Fall Wine Festival
Benson Butterfield Stage Days
Benson's Butterfield Stage Days commemorates the Butterfield Stage route that came through the Benson area in the late 1850s. It has been 155 years since the Stage Route was started. This is some great family fun to be had during the weekend.
On October 10 and 11, 2014 the festivities start off with a parade through the streets of Benson. This year's theme is "San Pedro Valley Education – 100+ years and counting." Last year the Benson School District was rated the best in the State of Arizona. There are vendor booths set up around the Benson Museum and if like previous years there are members of the Buffalo Soldiers Renactors Group that have a display.
There is also a Pony Express group that takes commemorative envelopes that are sold to visitors and delivers the mail to the Dragoon Post Office. Although the Pony Express never came through Benson it was determined that this activity would lend some Old West spirit to the festival.
After the end of the Rodeo completion on Saturday, There are fireworks in Lions Park. This is always a great time to sit back and enjoy the fireworks. This has been a tradition for many years.
On Sunday, the Butterfield Stage Days ends but not before the judging of the car show is done. This show has not be held for 2 years but in the past it has drawn a number of old beauties and is worth the time to see the entries.
Butterfield Rodeo
The Rodeo is a two day event that is held and the Arena Bar in Benson. The Arena has been the host of the Rodeo for many years. The facilities are nice and there is a lot of parking available. Besides the  adult rodeo there is also rodeo events for children. This can be a lot of fun to watch with youngsters are out there trying their skills. For more information click on the City of Benson Link.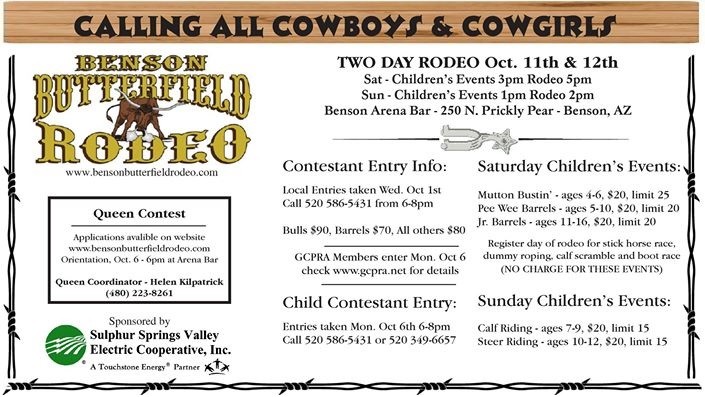 Visit our website at Down By The River B and B if you are planning to take in any of these Southeastern Arizona October Events.