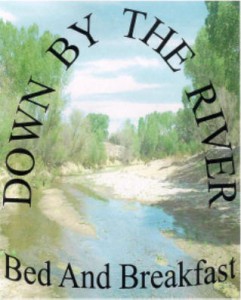 From the kitchen of Down By The River Bed and Breakfast for your enjoyment.
Down By The River B and B is located in St. David, AZ.
We include in our breakfasts a little appetizer prior to the main course. We make many different types of  smoothies that are delectable and refreshing. It is a good start at getting your taste buds awake prior to sitting down to enjoy your gourmet breakfast.
Bon Apitito!
Mike's Polynesian Fruit Smoothie
Ingredients:
1- 8 oz container      Vanilla yogurt
2 cups                          Frozen mixed tropical fruit (Festival Fruit from Costco)*
1 – 12 oz can              Mango Juice
1 – 12 oz can              Guava Juice
1 tsp                             Coconut Snow ™  (powdered coconut)
1                                     Frozen Banana
1                                     Large Kiwi sliced and peeled
Directions:
*This requires a heavy duty blender if you use the frozen fruit otherwise defrost the fruit prior to blending.
In a blender place all the contents and blend until all the fruit is chopped up into a fine blend.
Cut kiwi into slices and peel, partially bisect the fruit slice.
Pour into 8 oz glasses and garnish with kiwi fruit slice on the rim. – serves 6
Tags: Down By The River recipe, Fruit Smoothies, Romantic BnB