Spinach Tomato Quiche with Caramelized Onions from our Southeastern Arizona BnB Recipe Collection
Our delicious Southeastern Arizona BnB recipes come in handy when we have a diverse group of guests. Many times we have had guests who have dietary restrictions and we want to provide a great breakfast that will meet their requirements. Sometimes we need to do separate dishes for them while at other times we are able to accomplish the meal using one recipe. We recently served a breakfast where we had a guest who was on a gluten free diet, a vegetarian, a diabetic and a guest with no restrictions. The spinach quiche recipe is a staple on our menu list and this dish worked for everyone. We can use a crust that is gluten free or we can eliminate the crust in some cases. Even though the dish doesn't call for meat or cheese, you can add bacon or Mozzarella to the recipe and it will become a different breakfast when served. This recipe is very versatile and allows you to experiment to meet the dietary restrictions of our guests.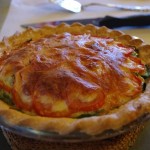 We are asked by guests for our Southeastern Arizona BnB recipes and we gladly give them out. At times we post recipes on our blog so that guests can find them later when they get home. All of our recipes are designed for larger groups but the recipe can be reduced for use in smaller size dishes and ramekins. The cooking time will vary so that variable needs to be watched. We serve this quiche with different side dishes including French toast, pancakes or waffles. We love to play with combinations. Check back on our blog for other Southeastern Arizona BnB recipes from our kitchen at Down By The River B and B, The Lodging Hub of Cochise County.
Ingredients
4 large eggs
3/4 of a medium onion
2 1/2 Roma Tomatoes
1 1/2cups fresh spinach leaves
3/4 cup heavy cream
3/4 Tbsp ground rosemary
3/4 tsp salt
3/4 tsp pepper
Butter
Pastry shell (optional)
1/4 cup Mozzarella Cheese (optional)
1/4 cup bacon cooked & crumpled (optional)
Directions
Grease an 8" baking dish and bake pastry shell. If you don't use the crust just grease the dish.
Julienne Onion and sauté in butter over low heat until browned
Thinly slice the tomatoes deseed and set aside
In a bowl combine eggs, heavy cream and spices – Mix well
On the pie shell place the caramelized onion
Place the spinach over the top of the onion
Place bacon over the spinach (optional)
Pour the egg mixture over the top of the spinach and onions
Top with the tomato slices
Top the tomatoes with the Mozzarella Cheese (optional)
Bake at 350 F for 30 to 35 minutes until golden brown