The Willcox Wine Country Festival Is Just Around The Corner
The Willcox Wine Country Festival is only ten days away. May 17 and 18, 2014 are the dates of the festival and 21 different wineries will be serving their fine products from 11 AM to 5 PM. There are nearly 100 different wines that you will be able to sample. The festival site is Railroad Park in downtown Willcox. There will also be vendor booths selling different unique items. Besides the local restaurants that are within walking distance, there will be food services available at the park.
For the price of $15, you receive a commemorative glass and 6 tickets for sampling your choice of wines. Angie and I usually share the sample and that way we can taste 12 different wines. Belong to a wine club? We belong to some and when we stop at that winery location the samples are free and they don't ask for the ticket. Needless to say with only 12 tickets we go to wineries that we don't frequent often such as ones that grow their grapes in Willcox but the tasting room is located outside of Willcox or Elgin. By going to the festival you can sample wines that you may not have had the chance to taste.
The best part of the Willcox Wine Country Festival is that you are able to sample many different wines at one location. This gives you the opportunity to focus on what you want. Maybe you only want to taste one type of grape, only dry reds, or only whites. If you already know the wines you like you can taste others and then purchase the ones you know you like at the festival. There are a lot of options available for you. More information is available at this website.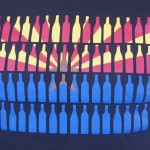 Angie and I are pretty lucky because we are located between Elgin and Willcox. Our B and B is called Down By The River B and B and we are located in St. David. This is about 45 minutes from both wine country locations. Because of that we have many friends that are the owners of the wineries and we have many guests that stay here because of our centralized location.  So if you can't make the wine festival this year in May there is the next one that is held in October. Remember Down By The River B and B for your lodging choice when you visit Southeastern Arizona's Wine Country.